Fillmore Auditorium | Denver, Colorado
Divide and conquer. Still, Wu-Tang's clan's tried and tested strategy for rap and hip-hop world domination. Three of its key members –Raekwon, Ghostface Killah, and GZA are going on the road — a tour dubbed as The 3 Chambers Tour to get their fans to raise the roof in a night of revelry as they unleash songs from their highly extolled solo albums, namely, "Only Built 4 Cuban Linx," "Ironman" and "Liquid Swords," respectively. Raekwon, Ghostface Killah & GZA will seize the stage of the Fillmore Auditorium on Saturday 16th October 2021. Hip-hop's biggest night will surely attract a swarm of fans so this is one hot ticket! Book your tickets now!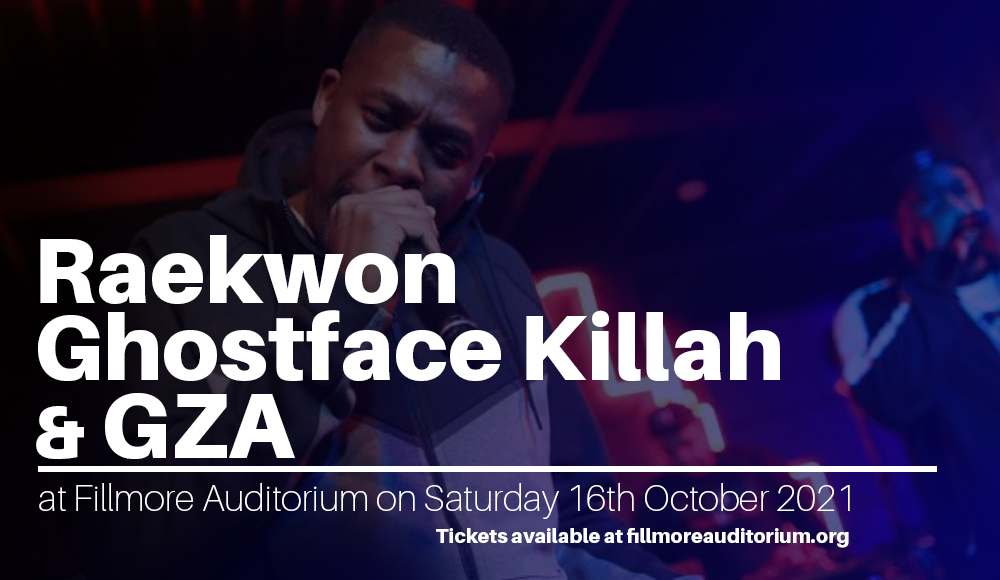 Raekwon, Ghostface Killah & GZA are raring to get out there! "As we start to approach a back to normal environment, which is overdue, I'm overly excited about seeing my fans again," Raekwon said of the trek in a statement. "This '3 Chambers Tour' will be something I recommend nobody misses. This shit will be bananas! Get ready to enter the WU again."
Wu-Tang Clan is the blood that runs through their veins, yet Raekwon, Ghostface Killah & GZA are now going out as a collective faction for a tour dubbed as The 3 Chambers Tour.
In 1995, Raekwon has debuted his first solo album "Only Built 4 Cuban Linx… " which was lauded by critics, and citing Raekwon as a pioneer of mafioso rap or commonly known as gangsta rap, with The Miami New Times hailing Raekwon's music as being "street epics" that are "straightforward yet linguistically rich universes like a gangsta Iliad." Raekwon has also been recognized in 2007 by the editors of About.com as one of the Top 50 MCs of Our Time (1987–2007).
Ghostface Killah released a smashing debut album " Ironman", in 1996. Like Raekwon, editors of About.com also placed Ghostface Killah on their list of the "Top 50 MCs of Our Time (1987–2007)", calling him "one of the most imaginative storytellers of our time." Other music press concurs this statement, as Q magazine called him "rap's finest storyteller." Pitchfork Media has stated that "Ghostface has unparalleled storytelling instincts; he might be the best, most colorful storyteller rap has ever seen."NPR has called him "a compulsive storyteller", and asserts that "his fiction is painterly."
GZA is held high regard as the "spiritual head", of the Wu-Tang Clan. He began his solo career with the release of his solo album Liquid Swords in 1995. One of the reasons why GZA commands such high respect is his infusions of science and philosophy in his rap storylines, described as "armed with sharp metaphors and a smooth flow". An in-depth examination of GZA's lyrics demonstrates that he has the second largest vocabulary in popular hip-hop music.
Prove yourself worthy and destined to enter The 3 Chambers. See that 'Get Tickets' sign flashing on your screen? Click and book your tickets now!