Fillmore Auditorium | Denver, Colorado
Loving Rex Orange County is easy. Let us count the ways… The great news always comes first — Rex Orange County is out on tour and the Fillmore Auditorium is one of his choice destinations! That's right, this phenomenal singer-songwriter who's busy enthralling his audiences with his indie-neo-pop sound is will hit the concert stage on Friday 24th January 2020. Secondly, the level of demand for tickets to his show is that of superstar proportions. The great thing about it is that you could beat 'em to a punch because Rex Orange County tickets are available on this website. All you have to do is just click the 'buy tickets' button to secure your space in this incredible concert. There are still a million reasons to love Rex Orange County. Find out by booking tickets and be there at his show!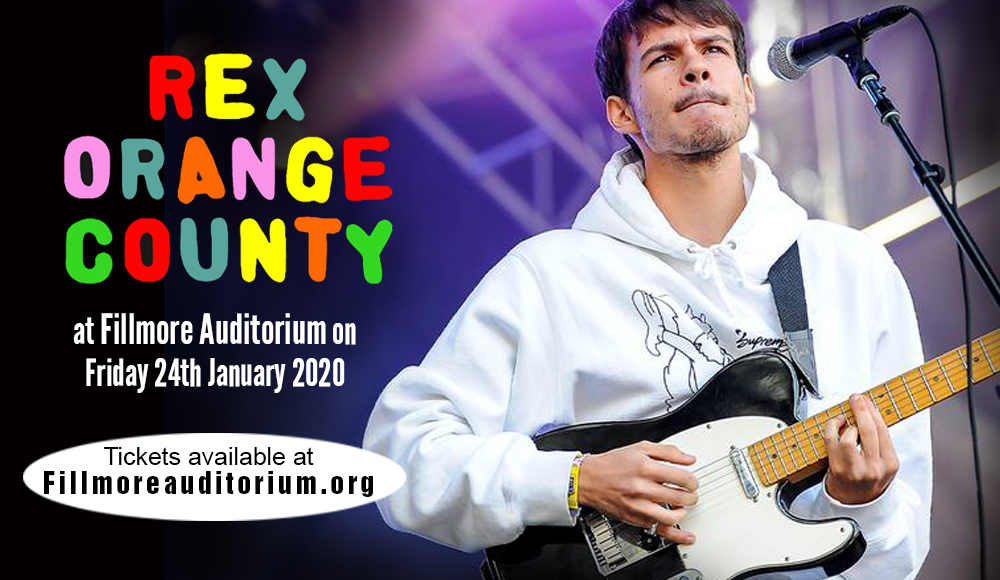 There are songs that get stuck in your head and are buzzing non-stop in your ear. Chance are, these songs are from Rex Orange County. Bet your bottom dollar, these songs are now rocking your world — "Best Friend," ""Sunflower," "Loving Is Easy," "Television/So Far So Good", "Corduroy Dreams"….and the list goes on and on!
Rex Orange County is now the most-in-demand flavor on everyone's playlist. His brand of indie-pop can make you feel like you're crossing between the sound trip of a hippie and a hipster. His neo-soul style can make you wonder whether you're in the swinging seventies or the sophisticated age of social media. You and your mom would definitely dig his music.
Rex Orange County is a multi-instrumentalist — a drummer, self-taught pianist, and learned to play the guitar at age 16. He said he was raised listening to Queen, ABBA, Green Day, and Weezer, along with more classical soulful artists, like Stevie Wonder who also inspired him. Rex Orange County's music's is classified in a wide range of categories, but for him, he simply describes it as "rough around the edges and lo-fi."
With millions of streams on Soundcloud and Spotify and countless followers on YouTube, Rex Orange County is a certified hitmaker. With fans from all over raving about him, Rex OC expresses his dedication to his craft. "I don't want to do anything else with my life," he says. "This is the perfect job. I'm also aware that it's brutal, and that's where the pressure comes from – I know that people need to love it for this to continue".
Don't miss out on this one. This is definitely awesome! Book your tickets now!