Fillmore Auditorium | Denver, Colorado
Have you Heard the news around the Hip-Hop block? WHether you're old scHool or new scHool, it's time to Hit the books because He's Headed tHis way to Hit the Fillmore Auditorium live stage on Tuesday 26tH November 2019! Surprised wHy all letter H are capitalized? THis is not a typo error nor a computer glitcH. Here's to announce the coming of Hip-Hop and rap artist ScHoolboy Q! Yes, aside from his rather odd tweeting style of capitalizing all letter H, Schoolboy Q has emerged as a dominant hip-hop force of this generation. Now he's on a major tour de force with the "Crash Tour" and is bound to hit and blow-up the live concert stage in this side of town. If you say you're a hip-hop fan, don't blow this opportunity to smithereens. Be there when it explodes! Book your tickets now!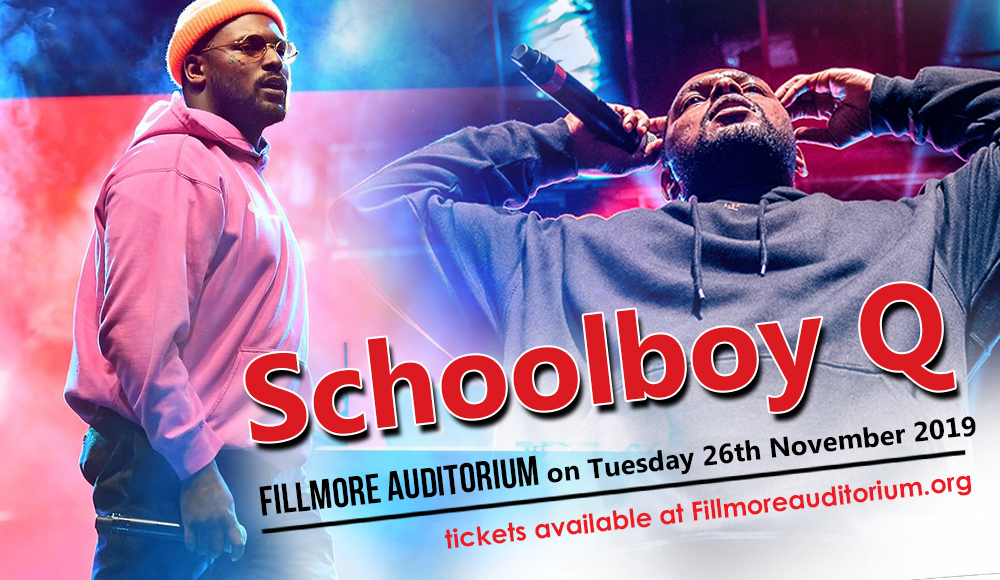 Quincy Hanley, famously known as Schoolboy Q is a rapper and hip-hop artist who zoomed his way to the charts. His major-label debut studio album, titled Oxymoron released on February 25, 2014, debuted at number one on the US Billboard 200. The album was supported by the singles, "Collard Greens", "Man of the Year", "Break the Bank", "Studio" and "Hell of a Night". "Collard Greens", "Man of the Year" and "Studio" all charted on the US Billboard Hot 100 chart. With amazing chart action, Schoolboy Q became a house-hood name, a superstar in no time.
Hanley is also a member of the hip-hop supergroup Black Hippy, alongside label-mates and fellow California-based rappers Ab-Soul, Jay Rock, and Kendrick Lamar.
When asked to describe his sound… "Biggie and Nas – put tHey ass in a blender, sprinkle some 50 and came out tHis nigga…" — ScHoolboy Q
Schoolboy Q has released four solo albums, namely, "Setbacks" (2011), "Habits & Contradictions" (2012), "Oxymoron" (2014) and "Blank Face" (2016). Schoolboy Q is earning praises from both sides of the camp, so to speak. Critics laude him, and fans love him! He also picked-up a slew of nominations along the way from the highly coveted award-giving bodies like Grammys, BET Hip Hop Awards and MTV Video Music Awards. Schoolboy Q has received three Grammy nominations to date: one for Album of the Year ("The Heist"), one for Best Rap/Sung Collaboration ("Studio") and one for Best Rap Album ("Oxymoron").
If hip-hop is your game, get your head out there before the rest of the crew gobble-up those hot tickets! Clock is ticking…book your tickets now!