Fillmore Auditorium | Denver, Colorado
Calling all members of the Fantasy! Your favorite boys hailing from the land of K-Pop, SF9, is kicking off a very special tour entitled "LIVE FANTASY #4 DELIGHT" hopping over to five cities in North America. Kicking things off in Seoul, the boys are headed to the U.S. with a stop at Filmore Auditorium on Thursday, 8th of December 2022, as they wrap up a big year, celebrating 6 years since their debut and their newest mini-album "THE WAVE OF9". Set to create even bigger waves with a bright future ahead, don't miss out on SF9's ultimate year-ender at LIVE FANTASY #4 DELIGHT by booking your tickets. now!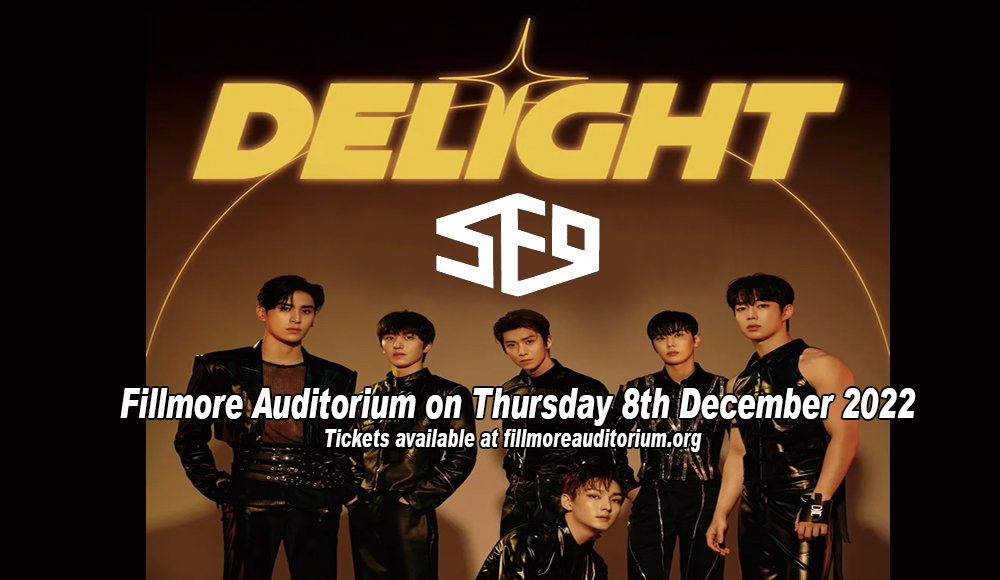 Formed by FNC Entertainment in 2016 with their debut single album "Feeling Sensation" with its hit single "Fanfare", SF9 has grown into one of the K-Pop industry's promising global acts. Having just released their eleventh mini-album last July of 2022, the band surprised its fans with its title track "Scream" which got fans screaming at the top of their lungs, cheering for their biases' astounding comeback.
SF9 is composed of nine members – Youngbin, Inseong, Jaeyoon, Dawon, Zuho, Rowoon, Yoo Taeyang, Hwiyoung, and Chani. A perfect family they may be, two members of the group have to take a little break as Inseong and Youngbin signed for their mandatory military enlistment earlier this year.
Rowoon, one of the group's charming singers and actors who starred in various K-dramas such as Tomorrow and The King's Affection, was also absent from the group's production and promotion of their comeback mini-album "THE WAVE OF9" due to "an inevitable situation in which he had to work on a tight schedule due to the combination of drama filming schedules during the long-running album production period". Nonetheless, Rowoon remains to be part of the SF9 family.
Shining through with their high energy, alluring vocals, astounding choreography, and catchy songs, the group has served solid hits including "Fanfare", "Now or Never", and "RPM". They've also caught the public eye for their slower tracks with powerful choruses such as "Good Boy" and "O Sole Mio". Together, SF9 delivers authentic and powerful tracks that show their passion and dedication for their craft.
After a big comeback with "THE WAVE OF9", bigger waves and resounding cheers and screams await the boys at their "LIVE FANTASY #4 DELIGHT" tour year-ender this December in North America. Save your spot at the Filmore Auditorium as SF9 takes over. Book your tickets now!