Fillmore Auditorium | Denver, Colorado
Skillet are hitting the road AGAIN! This band just refuse to let fans be disappointed, embarking upon the second leg of their Unleashed tour in the US after a massive sellout reception in Europe. They're playing at The Fillmore Auditorium with Devour The Day on Saturday March the 18th – grab your tickets NOW!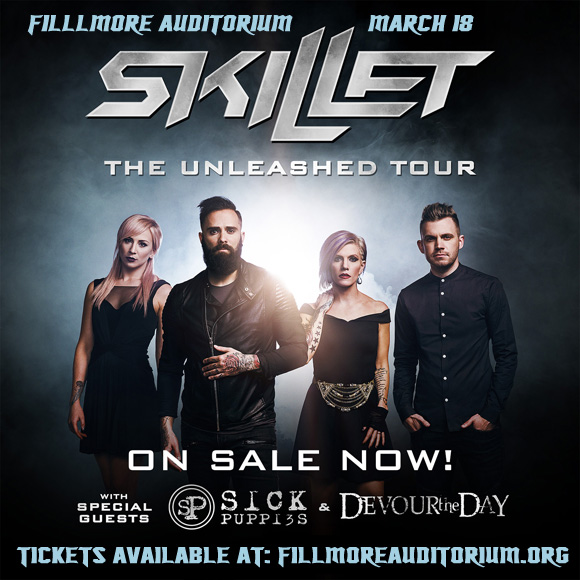 With super tight riffs, pounding basslines and a back-and-forth male/female vocal with incredibly catchy toplines, Skillet have a sound that is at once powerful, energizing, uniting and uplifting – they are the ultimate anthemic nu metal band! Very luckily for us, they're also are known for their gruelling tours, earning them a slot in Songkick's "Hardest Working Bands of 2010". As you might guess, this band really know how to perform, having honed their live act to a fine art. They are known for their energy, on-point musical and vocal delivery, and their impressive stage shows involving lights, pyrotechnics, and even platforms upon which the band members ascend into the air!!
The end of Egypt Central in 2012 saw the rise of a new nu metal/post grunge project from band members Joey "Chicago" Walser and Blake Allison. They will be touring with Skillet in support of their April 2016 release "S.O.A.R". Their first single and video from the album "The Bottom," is deeply personal to both band members, featuring various places, people, and locations that have played a part in their lives and journey with Egypt Central until now. Expect Devour The Day at their very best in support of Skillet.
Don't miss out – this will be an incredible gig!!