Fillmore Auditorium | Denver, Colorado
HUGE news for everyone who likes their music a bit on the weird side – the magnificent St. Vincent is back and bigger and better than ever! With her brand new album "Masseduction," she's on her way to do just that with a massive North American tour! Don't miss your chance to see St. Vincent live at the Fillmore Auditorium on Monday 15th January 2018! Known for her arty and edgy videos and visuals, her live show promises to be no different. Get your tickets NOW while you can!!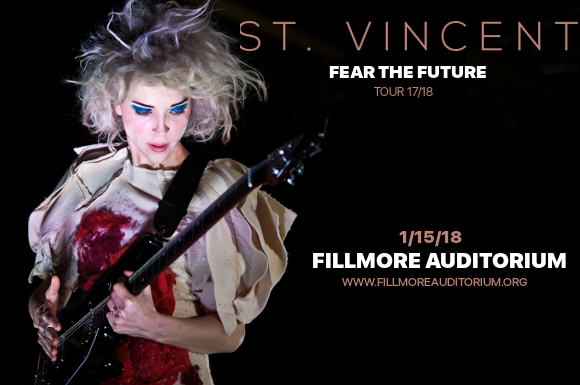 Known for her hidden messages and multiple layers to her work, the style of the latest album, both visual and musical, was influenced largely by the current political state of the world, and to mark a strong contrast to her last work, her award-winning self-titled LP. "The last record that I did, I was perched on top of a pink throne for god's sake, it was imperious," the guitarist said, frankly. "With this one, I wanted for it to be more absurd and taking the piss out of myself and taking the piss out of where we are in culture… Even in the sense of rolling out the record, I wanted it to be silly because it feels like the world is on fire, so for someone to come out and be incredibly self-important about releasing a record feels insane."
Be among the first to hear St. Vincent's incredible new sounds live – book your tickets to see her at the Fillmore Auditorium TODAY!!