Fillmore Auditorium | Denver, Colorado
Whether you love or hate 80s glam metal, Steel Panther have probably got you covered. The notorious profane parody band have released a new album and they're taking it on tour – coming to the Fillmore Auditorium on Friday 9th March 2018! If you love Steel Panther you can't afford to miss this – grab your tickets now and get ready for a wild time!!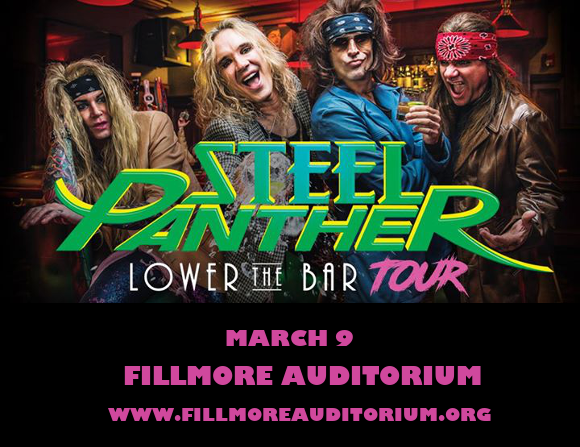 Formed in 2000 as "Metal Shop," Steel Panther earned recognition on the Sunset Strip doing covers and parody versions of classic 80s hits. Before long, through, the band had evolved into their own entity. Making their debut with their first original album "Feel the Steel," the band went straight to number one on the Billboard Comedy chart. Their highly offensive, in-your-face, over the top style has continued to delight audiences ever since.
With their fourth full-length album, "Lower The Bar," Steel Panther covered Cheap Trick's "She's Tight." "Cheap Trick was one of my favorite bands when I was younger," Michael Starr, the band's frontman, stated. "I'm so proud to have recorded this track for our new album and also to have Robin Zander himself sing with me on the song. It's like a dream come true."
Don't wait about!! Grab your tickets to see Steel Panther today!!