Fillmore Auditorium | Denver, Colorado
Put your makeup on and get your gears ready because the unprecedented purveyor of glam metal, Steel Panther, is here! And they're set to tour the world! Their 2023 trek, titled On The Prowl World Tour, kicks off this first quarter of 2023. The band will perform in 30 major cities, including a long-awaited stop in Denver, Colorado! If you love metal and you happen to be in the region, you are in luck because the comedic glam metal revival quartet is set to rock the Fillmore Auditorium on Saturday, 1st April 2023! So hurry and grab your tickets now to see Steel Panther's high-energy performance in Denver!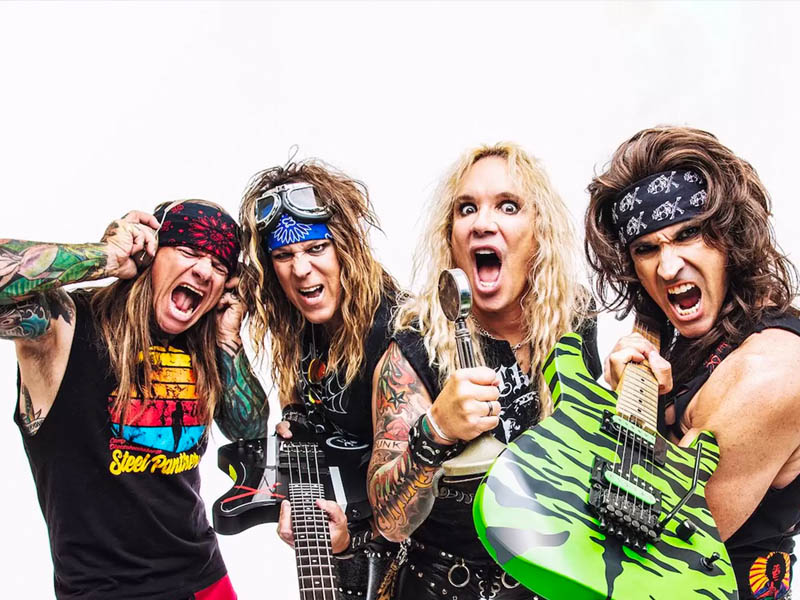 Steel Panther's upcoming 2023 tour is celebrating the release of "1987." The single, released in 2022, was accompanied by a music video directed by J.T. Arbogast. The single has all the makings of a glam metal hit, including unforgettable hooks, an incredible guitar solo, and high-relatable lyrics. Meanwhile, the music video also provides a retro appeal with characters reliving the memories of the year 1987. "1987" may be one of the singles featured in Steel Panther's upcoming album, On The Prowl. Set for a 2023 release, On The Prowl will be Steel Panther's sixth effort. The record follows the band's plethora of highly-acclaimed studio albums, all topping the Comedy Albums charts.
In 2009, Steel Panther dropped their debut album, Feel the Steel. The band, comprising frontman Michael Starr, Satchel, Stix Zadinia, and Spyder, entered four Billboard charts, including the Billboard 200. Feel the Steel was the quintessential Steel Panther album, containing tracks with memorable melodies and even more striking titles, such as "Fat Girl," "Death to All But Metal," and "Eyes of a Panther." The album was guested by several notable musicians, including Corey Taylor from Slipknot, Justin Hawkins from the Darkness, and M. Shadows from Avenged Sevenfold.
If you're keen on attending an ultra-awesome metal show with a retro appeal, you better score your tickets now to see Steel Panther rock it out at the Fillmore Auditorium! Tickets are now available!