Fillmore Auditorium | Denver, Colorado
EPIC NEWS! Get ready to catch the LA Glam Rockers – Steel Panther LIVE at Fillmore Auditorium on Friday 27th January 2017! Steel Panther are embarking on a fresh new and exciting tour in 2017 to promote a brand new album and of course keep fans rocking until they drop!
This unmissable show is bound to be a sell out – so beat the rush and book tickets in advance… And start your new year with a punch!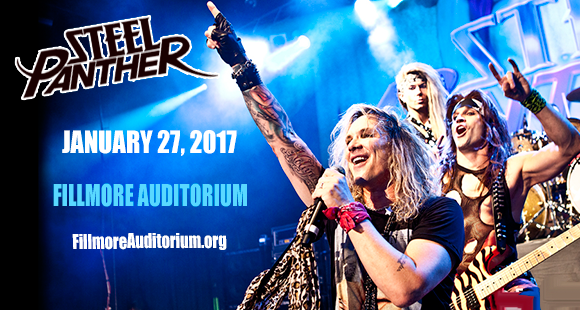 We've all gone through that hair band phase, but there are some who just can't seem to shake it off. Step right up and brace yourselves for a wild ride that would take you back to the time when spandex, guyliner, golden long locks were fab…now, Steel Panther also makes it funny!
This rock musical-parody features the quartet of 'Michael Starr' (Ralph Saenz, vocals), 'Stix Zadinia' (Darren Leader, drums), 'Lexxi Foxx' (Travis Haley, bass) and 'Satchel' (Russ Parrish), who started performing in the early 2000s at the Sunset Strip. They gained fame and notoriety through their hilarious take of covering 80s songs, poking fun at hair bands and rock star lifestyles of 80s glam rock bands.