Fillmore Auditorium | Denver, Colorado
Dub-influenced, breakbeat-infused psychedelic jam band STS9 (Sound Tribe Sector 9) – comes to Fillmore Auditorium on Thursday 29th December 2016! These guys seem to be making their mark on the LIVE scene, with their beautiful, hypnotizing performances. This 5-piece electronic jam band fuse live instruments with "electronica" to create a show like no other, complete with mind-blowing light displays in time with the music!
STS9 will be returning for an amazing 3 nights in a row – be sure to catch them while you can!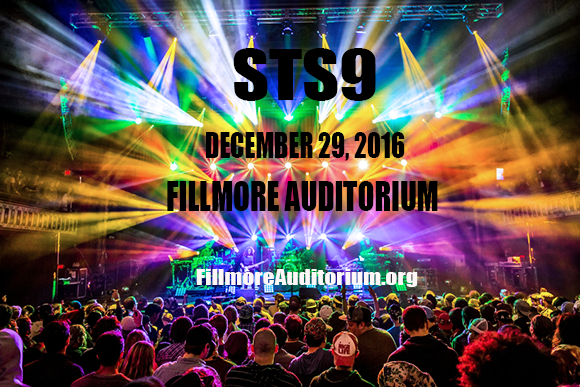 Since forming in Atlanta, Georgia over fifteen years ago, instrumental electronic rock band Sound Tribe Sector 9 (aka STS9) has experienced a dazzling and rapid ascent to the cutting edge of the international music scene.
Catagorizing themselves as "post-rock dance music," the band fuses typical live rock instrumentation with electronics, and champions collaborative groove over solo virtuosity. Over the years, STS9 has released 11 studio albums, two remix albums, and multiple live DVDs on their homegrown label 1320 Records. Touring extensively, both nationally in the US and internationally, they rank among Pollstar Magazine's list of top-grossing touring acts!