Fillmore Auditorium | Denver, Colorado
There's only one place to be if you're a fan of STS9 – Sound Tribe Sector 9 as their live and exciting show takes place at Fillmore Auditorium on Friday 28th December 2018 – tickets are available now, but are bound to sell fast so don't wait too long! Come and check out the Dub-influenced, breakbeat-infused psychedelic jam band STS9 (Sound Tribe Sector 9) as they take to the stage this Winter concert season!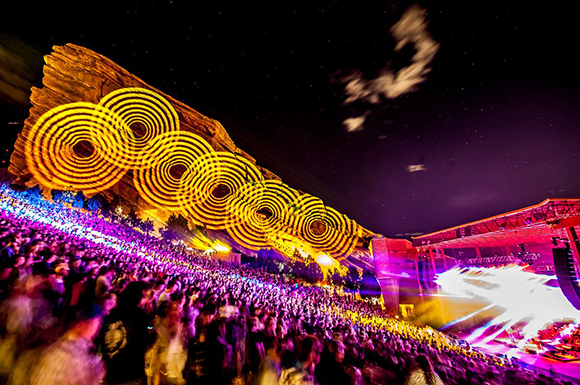 Since the beginning of their career, starting off in their hometown – Atlanta, Georgia over fifteen years ago, instrumental electronic rock band Sound Tribe Sector 9 (aka STS9) has experienced a dazzling and rapid ascent to the cutting edge of the international music scene. Catagorizing themselves as "post-rock dance music," the band fuses typical live rock instrumentation with electronics, and champions collaborative groove over solo virtuosity. Over the years, STS9 has released 11 studio albums, two remix albums, and multiple live DVDs on their homegrown label 1320 Records. Touring extensively, both nationally in the US and internationally, they rank among Pollstar Magazine's list of top-grossing touring acts, with a heavy presence in the music festival circuit.
STS9 have had a long list of commendable opening acts to date, such as worldwide names; Snoop Dogg, NAS, Bassnectar, Ghostland Observatory, The Glitch Mob, Thievery Corporation, Pretty Lights, Big Boi (Outkast) and numerous others. Their most recent EP, When The Dust Settles, debuted at #1 on the iTunes Electronic Charts and in Billboard's Top 25, while the first single "Scheme" was downloaded over 100,000 times in its first week alone!
Come and catch the incredible, talented group LIVE at The Fillmore this Winter for a special three date 'New Years' concert showcase!
"STS9 tears the roof straight off of The Fillmore with two fire sets!"
"The time had finally come for one of this country's greatest jam bands of all time to get together for an unforgettable performance. The band certainly didn't disappoint on their most recent stop on their Get Loud Tour (which is also the title of their most recent album.) They treated us with two beautiful sets and played 18 different songs for well over 2 hours combined. Everything was on point from the lights, to the crowd – even the atmosphere, and once Tribe took the stage everyone let go and settled into the groove that is a Sound Tribe Sector 9 live event. Something out of a dream."