Fillmore Auditorium | Denver, Colorado
Improvisational, instrumental electro-rock band Sound Tribe Sector 9 are heading to Fillmore Auditorium on Friday 5th February for An Evening With STS9! The psychedelic quintet create an immersive and captivating show that dazzles the senses and leaves fans spellbound! Don't miss out on this amazing experience!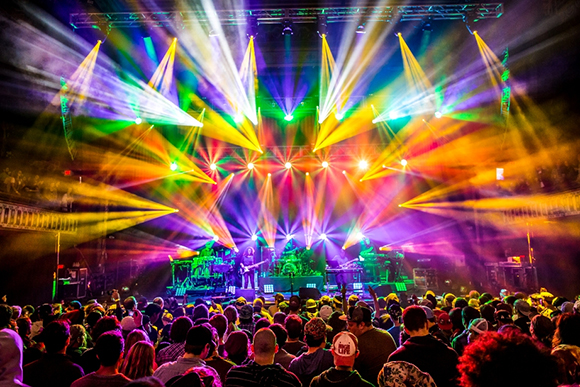 Since forming in Atlanta, Georgia over fifteen years ago, instrumental electronic rock band Sound Tribe Sector 9 (aka STS9) has experienced a dazzling and rapid ascent to the cutting edge of the international music scene. Catagorizing themselves as "post-rock dance music," the band fuses typical live rock instrumentation with electronics, and champions collaborative groove over solo virtuosity. Over the years, STS9 has released 11 studio albums, two remix albums, and multiple live DVDs on their homegrown label 1320 Records. Touring extensively, both nationally in the US and internationally, they rank among Pollstar Magazine's list of top-grossing touring acts, with a heavy presence in the music festival circuit. STS9 boasts a commendable list of opening acts such as Snoop Dogg, NAS, Bassnectar, Ghostland Observatory, The Glitch Mob, Thievery Corporation, Pretty Lights, Big Boi (Outkast) and numerous others. Their most recent EP, When The Dust Settles, debuted at #1 on the iTunes Electronic Charts and in Billboard's Top 25, while the first single "Scheme" was downloaded over 100,000 times in its first week alone.