Fillmore Auditorium | Denver, Colorado
Old school punk rockers get ready for a very special show; The Descendents are coming to the Fillmore Auditorium on Saturday 22nd July 2017!! Over the span of their 9-month tour they're playing just 28 shows, so chances to see them are limited!! Get your tickets early to avoid disappointment and get ready for the most epic night of retro punk!!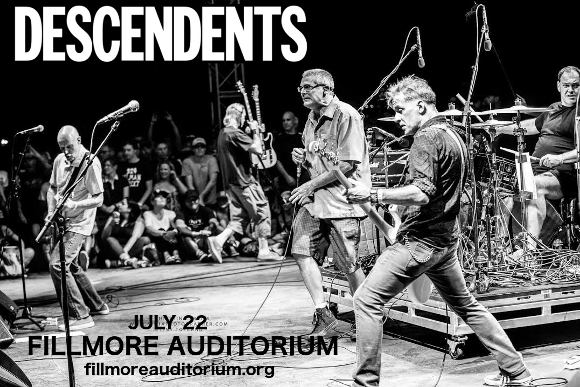 Initially gaining attention for their unusual blend of "caffinated," surf rhythms, driving bass melodies and sharp guitar licks, and at the time lacking a lead singer, sharing vocals gang-style they were described as "a blend of Devo-style new wave and Dick Dale-like surf." Over the years, their style changed from less-than-a-minute long hardcore slams into slightly more accessible songs of 2-3 minutes in length. They've been cited by many as being one of the leading influences on modern forms of punk today including pop and skate punk. As described by AllMusic, the band will give you "in-your-face hilarity… it's punk rock that wears both its adolescence and brains on its sleeve."
Known for their long periods of hiatus, The Descendents really took the cake when they released "Cool To Be You," in 2004 and disappeared for 12 YEARS before finally putting an end to their fan's famished misery in 2016 with "Hypercaffium Spazzinate," a turbo-charged record that showed that the years off the road hadn't hindered them in the slightest!! They'll be promoting the same album this year with a sporadic North American tour – make sure you're there to catch them!!