Fillmore Auditorium | Denver, Colorado
8-bit, funk-lovin' wild child The Polish Ambassador comes to Fillmore Auditorium on Saturday 8th December 2018! The neon-clad DJ, producer and poster child for sustainability is coming to a console near you and it's gonna get groovy, as he drops tunes from his epic sixteen-album career, including from his brand new release Twilight Safari! Get some bass in your face – you know you love it!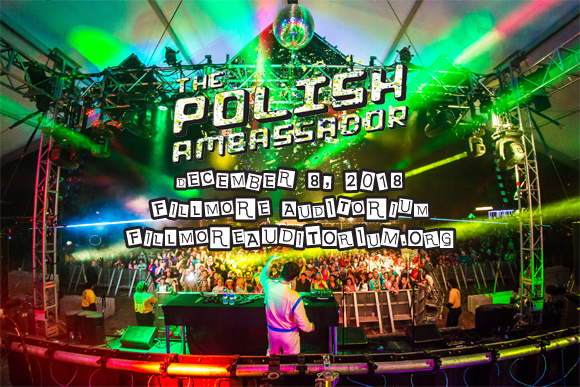 American electronic musician, producer and DJ The Polish Ambassador (aka David Sugalski) made his debut in 2006 with the release of his first album, Diplomatic Immunity. I Found Him Now I Must Kill Him, Sugalski's third album, attracted the attention of a Microsoft game developer, who hired him to write a game soundtrack, funding the continuation of his music career. He is signed to the independent music label Jumpsuit Records and has released sixteen albums to date. In 2014, he embarked on the crowdfunded Pushing Through the Pavement: A Permaculture Action Tour, a North American concert tour with the aim "to inspire and empower people with the tools and know how of co-creating a sustainable and regenerative world.