Fillmore Auditorium | Denver, Colorado
Catch 'em while you can! Their live performances on the concert stage are few and far in between, that's why when an announcement drops The Roots are on tour, fans literally drop everything and start grabbing tickets. You may see them live week on week at the NBC's The Tonight Show Starring Jimmy Fallon as its resident house band, but nothing beats experiencing the music and the rip-roaring energy of The Roots on the live concert stage. Don't miss one of hip-hop music's finest moments as The Roots seize the live stage of the Fillmore Auditorium on Friday 8th November 2019. No, you don't have to leave your seat. Just click that 'buy tickets' button popping out of your screen and book your ticket to this amazing show.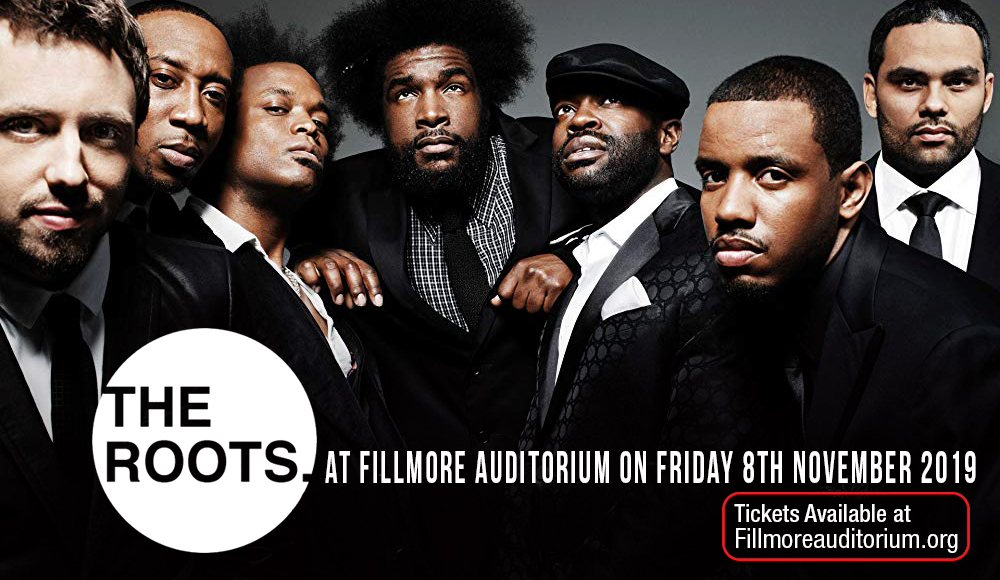 Millions of eyes and ears are glued to their performance every week as the official house band of NBC's The Tonight Show Starring Jimmy Fallon. Yet fans have always been left wanting for more. The Roots are always at their element. Hence, fans love 'em and the press media laud them. They were described by Rolling Stone as "one of the greatest live acts in the world" and by the Boston Globe as the "greatest hip-hop band in the land". ThoughtCo ranked the band #7 on its list of the 25 Best Hip-Hop Groups of All-Time, calling them "Hip-hop's first legitimate band."
The Roots are said to have taken the lead in spawning a hybrid fusion of hip-hop, jazz and soul. Their trademark sound is a jazzy and eclectic approach to hip-hop. The band is highly respected by their peers, and recognized by prestigious music institutions. They have a collection of four Grammy wins, including "Best R&B Album" for Wake Up!, "Best Traditional R&B Vocal Performance" for "Hang in There" (with John Legend) and "Best Group or Duo R&B Vocal Performance" for "Shine." In total, The Roots have picked-up a total of 12 Grammy nominations to date.
The Roots are staples of Philly's "Fourth of July Jam," an annual concert held during the Fourth of July with the biggest names in music, and lead a yearly star-studded mix of musicians in "The Roots Picnic". They have played in top-tier venues and high-profile festivals such as NYC's Radio City Music Hall, Lollapalooza, Montreux Jazz Festival, Lincoln Center and the Apollo Theater.
Lock-in this date and book your tickets to this enthralling live coincert performance of The Roots. Literally a limited engagement not to be missed!