Fillmore Auditorium | Denver, Colorado
Exciting announcement! It's time for the Fox's Halloween Hair-Ball, featuring Tom Keifer & Lita Ford, with support from The Blackouts!! This spooky night of guitar-heavy rock n' roll is coming to the Fillmore Auditorium on Saturday 28th October 2017! That's right, it's time to catch Tom Keifer & Lita Ford LIVE – be sure to book your tickets early as they are bound to sell out!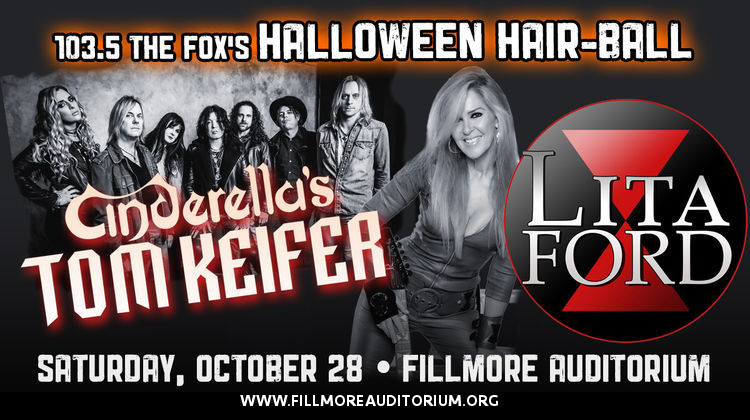 If you love the band Cinderella then get excited, as their frontman Tom Keifer is headlining this spectacular Halloween show!! Fans of the Rolling Stones, Led Zeppelin and Aerosmith will love his unique blend of glam metal vibes and heavy riffing. Now performing with his latest album, "The Way Life Goes," Keifer has been described by the Los Angeles Daily news as having "…an amazing, raspy voice and a knack for writing songs that lodge themselves on the brain and refuse to leave for days".
Also performing is the legendary Lisa Ford, The lead guitarist for The Runaways in the 70s who later pursued a highly successful solo career. In 1988 she released her self-produces and self-titled album "Lita," her most popular album to date, including the singles "Close My Eyes Forever", "Falling in and Out of Love", a collaboration with Mötley Crüe's Nikki Sixx, and "Close My Eyes Forever" featuring Ozzy Osbourne, her most successful song to date.
Take a trip back in time this Halloween with these veterans of rock n' roll – book your tickets to the Fox's Halloween Hair-Ball NOW while they last!!