Fillmore Auditorium | Denver, Colorado
He's painting the town red and he means business. Rapper Trippie Redd is a hot ball of fire that is bound to hit the Fillmore Auditorium stage on Sunday 17th February 2019. This young hip-hop sensation has been burning up the charts with his dynamic singles. With his legions of followers raring to catch him live, this show is definitely a red-hot ticket. No time to think twice. This calls for some quick action before time and tickets run out. Go, buy your tickets now!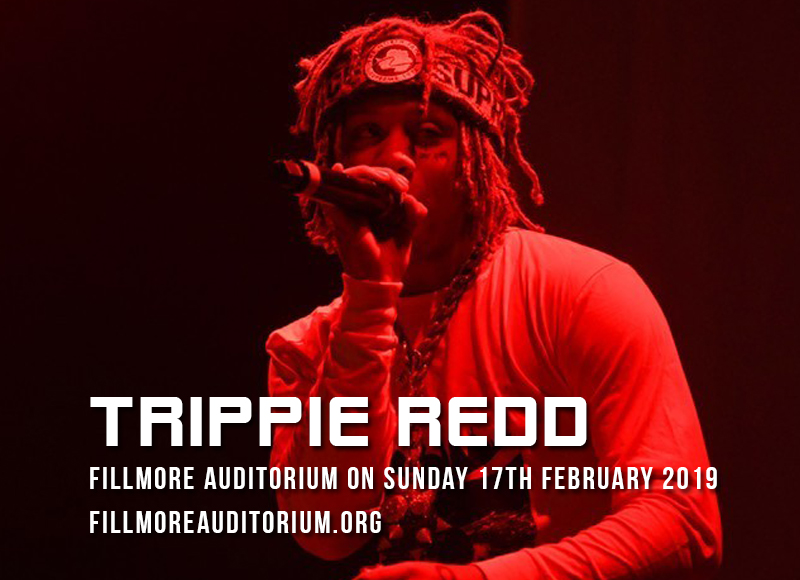 Trippie Red has got the all the stuff aspiring rappers are made of. A dysfunctional family, involvement in gangs, along with an impressive 4.0 GPA in school, did not stop Trippie Red, a.k.a. Michael White, from pursuing the one thing he is so passionate about : hip-hop music. Influenced by Tupac and Nas, and listening to Marilyn Manson and Lil Wayne aka Weezy, helped White create a sound and style that is distinctly his own.
Signed by record label Strainge Entertainment, he released his debut mixtape, A Love Letter to You in 2017, which included his mega-hit, "Love Scars," garnering more than 8 million views on YouTube during the first few months of release. On Soundcloud, "Love Scars" hit a whopping 18 million plays. A few months after he released the sequel, A Love Letter to You 2, which charted at No. 34 on the Billboard 200. With these amazing chart actions, Trippie was soon touring the nation. He earned a performance spot in the highly coveted 2017 Rolling Loud Music Festival, sharing the stage with artists top notch artist like Kendrick Lamar, and many others.
Save the date: Sunday 17th February 2019. Book your tickets to catch Trippie Redd. Mark it in red as one of those lit shows you'll ever experience.