Fillmore Auditorium | Denver, Colorado
Grab a friend and get ready to jump! Two Friends, the DJ duo known for their hit song remixes, is hitting the stage at Fillmore Auditorium on Friday, 4th March 2022, for their "The Adventureland Tour". The crowds are in it for an adventure-filled night of sick electro-pop beats! The duo says it's their biggest, wildest, and friendliest tour to date. Two Friends just recently dropped their new single with Ferris, "Love Love" from their 2021 EP "Useless". What's more to love than a tour with the DJ duo to get the party started! Get ready to vibe, jump, and party in a night of adventure led by Two Friends. Book your tickets now!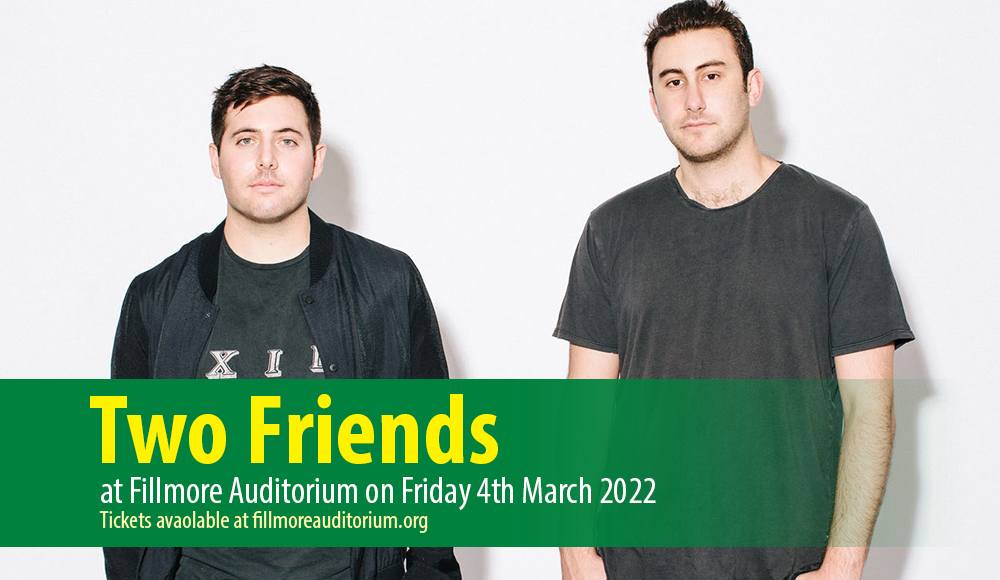 The 'two friends are made up of Eli Stones and Matthew Halper who met in seventh grade. At the end of their high school lives, they brought to life "Two Friends", a name they agreed on at a senior seminar class they were in. Before diving into the electronic scene, they worked on hip-hop beats and produced tracks for several new rappers at the time. After a visit to Sahara Tent in Coachella, and the influence of other friends and family, they grew interested in the electronic scene.
In 2014, SirusXM's EDM station, BPM, included Two Friend's remix of Lana Del Rey's "Born To Die" in their regular rotation, being heavily featured. They also received wide attention by 2017 when The Chainsmokers gave praise and named them "Most Underrated Artist" in an online thread.
The duo has dropped 3 EPs so far, namely "You(Me), 2017's "Out Of Love" which featured fan-favorite hits "Out Of Love" and "Pacific Coast Highway", and their 2021 release, "Useless".
The duo describes their music as "songs that are fun and get you dancing and moving, but also hopefully resonate with you on a more emotional level at the same time…", with different influences across genres, Two Friends expressed in an interview with Raver Rafting.
They've remixed classics such as "I Miss You" by Blink-182 and "Mr. Brightside" by The Killers. They're also widely known for their official remixes for Lana Del Rey, The Chainsmokers, Tove Lo, and much more.
Get ready to jump, dance, and party all night as they bring the adventure to the Fillmore Auditorium on March 4th, 2022 as they stop by for The Adventureland Tour. Book your tickets now!