Fillmore Auditorium | Denver, Colorado
Count down New Year's Eve by attending an Umphrey's McGee concert at the Fillmore Auditorium on 27th, 28th, 30th and 31st December 2019.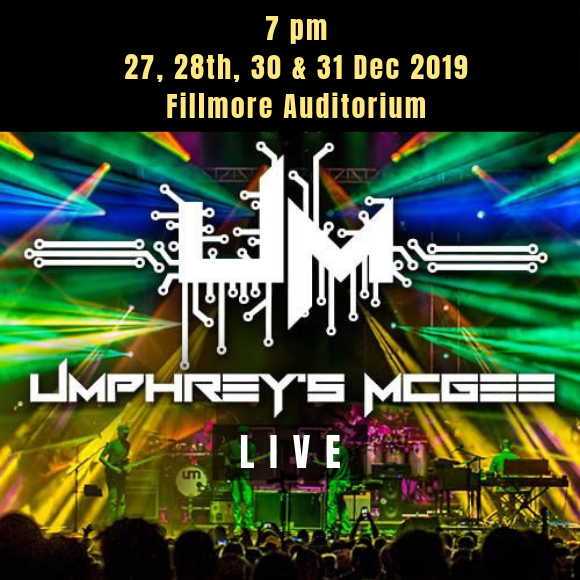 Doors Open: 7:00 pm
Show Time: 8:00 pm
Ages: 16 and over
Tickets: $37.50 in advance, $40.00 day of show; four-day passes will be $175.00
Umphrey's McGee is an American rock band originally from South Bend, Indiana. It was formed by students at the University of Notre Dame in 1997 and since then, UM has continued to add members. The band experiments with many musical styles, including rock, metal, funk, jazz, blues, reggae, electronic, bluegrass, and folk. They have toured regularly and released several albums.
The music of Umphrey's McGee unfolds like an unpredictable conversation between longtime friends. Brendan Bayliss [guitar, vocals], Jake Cinninger [guitar, vocals], Joel Cummins [keyboards, piano, vocals], Andy Farag [percussion], Kris Myers [drums, vocals], and Ryan Stasik [bass] simply knows how to communicate with each other on stage. Every note they play synchronizes perfectly well and the band makes it look so simple to achieve when it is not.
UG has performed more than 2,200 gigs and sold 5 million tracks. They will bring you the best experience at each of their concert.
If you are a fan of Umphrey's McGee, you need to attend this event and if you are not, you should give them a chance to impress you. Count down to the New Year with the best concert of Umphrey's McGee at Fillmore Auditorium on 27th, 28th, 30th and 31st December 2019.