Fillmore Auditorium | Denver, Colorado
MASSIVE NEWS!!! Folk-punk rockers the Violent Femmes are teaming up with post-punk, new wave act Echo and The Bunnymen for a huge co-headlining tour that will see them land at the Fillmore Auditorium on Wednesday 26th July 2017!! Tickets will sell out FAST for this event, so don't delay – book yours now!!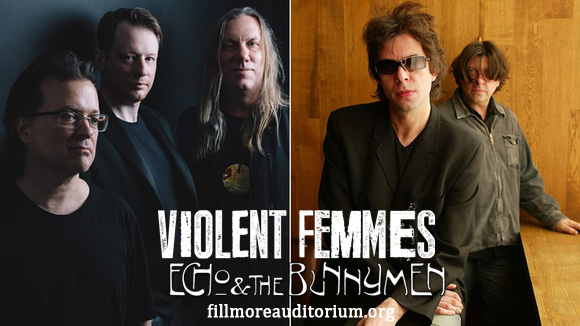 Hailing from Milwaukee, Wisconskin, and currently performing as a four-piece, Violent Femmes are one of the most successful alt rock bands of the 1980s, with over 9 million in album sales by 2005. They found success straight away with the unique sound of their eponymous first album in 1983. The album became their best-selling ever, going on to become platinum-certified by the RIAA, featuring several of their best-loved songs, including "Blister in the Sun", "Kiss Off", "Add It Up" and "Gone Daddy Gone".
Echo & The Bunnymen have a similar story to tell, with their debut album, Crocodiles, going into the top 20 of the UK Albums Chart, giving them an almost instant cult status which was followed up by mainstream success in 1983, with "The Cutter," single charting in the top 10, and the accompanying album. "Porcupine," reaching number 2 on the UK Album Charts!! Their "Ocean Rain" album of 1984 continued their UK chart success, and is regarded, in particular its single "The Killing Moon," as one of the most important releases of the post-punk movement!!
Don't miss out on your chance to catch these legendary punk bands live – book your tickets to see Violent Femmes and Echo & The Bunnymen TODAY!!