Fillmore Auditorium | Denver, Colorado
As the title of one of his biggest hits, Wiz Khalifa says: "Work Hard, Play Hard" ; and for the concert event, it's time to party hard! Wiz Khalifa & French Montana are going to hype up the night with their concert at the Fillmore Auditorium on Tuesday 6th August 2019. This is part of his much-sought-after tour 'The Decent Exposure', where he will cover 29 dates all over the nation. Being one of the leading forces in his genre, Wiz Khalifa along with his concert cohorts French Montana, Playboi Carti, Moneybagg Yo, Chevy Woods, and DJ Drama, will raise the roof and bring the house down with an exhilarating set-list of all-killer, no-filler hits. Get these in-demand tickets before they get sold out!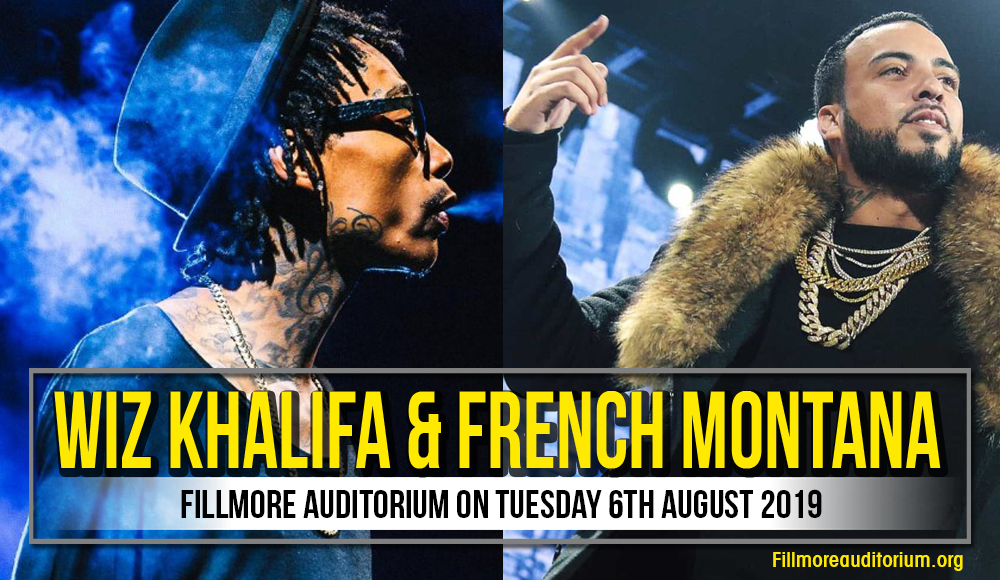 As one of this generation's most prolific and leading rap, hip-hop wizards, Wiz Khalifa truly lives up to his name. A child prodigy of sorts, Wiz began to write and perform his own lyrics before hitting his teenage years. At age 15, a recording studio owner was so impressed by his musicality that he allowed him to record and use his music in a studio called I.D. Labs, where he recorded and learned the chops of recording for free. This is where Wiz was able to sharpen his skills as he was able to receive professional grade studio time at no cost. Wiz grabbed and put this opportunity to good use, and it bear fruit. He worked on a mixtape of Pittsburg artists which had reached the ears of the head honcho of a record label, which immediately signed him at age 16. From there, he went on to release his debut major label single, "Say Yeah". Though of moderate success, Wiz forged on up until "Black and Yellow" and "Work Hard, Play Hard" hit the rap scene and exploded onto the mainstream. Wiz Khalifa is now at the forefront and lording over rap and hip hop territories with three out of six albums certified gold or higher: "Rolling Papers" (2011), "O.N.I.F.C." (2012) and "Blacc Hollywood" (2014). He also then cemented his reputation as a hitmaker as he released and reached the top of the charts with Young, Wild & Free," "See You Again" and "Sucker For Pain."
Don't miss the Wiz! Be wise to get your tickets now!