Fillmore Auditorium Parking
Fillmore auditorium is often referred to as Fillmore Denver by people and it's a concert site situated in the neighborhood of Capitol Hill in Denver, Colorado. This auditorium in Denver, Colorado has hosted several public as well as private functions since it opened in 1907.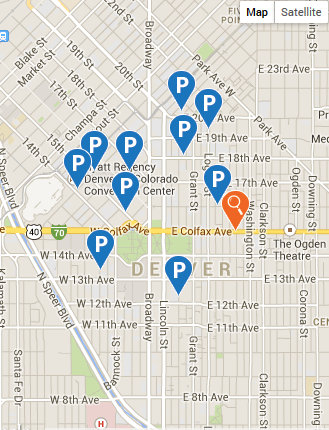 The Fillmore Auditorium – Denver is located at 1510 Clarkson Street, Denver CO 80218. We recommend that you input the address into your favorite GPS device or map making app to find the best directions to the venue. This will also help you avoid any closures or delays that may be going on at that time. We also recommend that you arrive no later than 40 minutes before the show, so that you have plenty of time to find parking and get through security, as late arrivals may be asked to wait in the lobby for certain shows.
If you're planning to take public transportation or ride share services, then The Fillmore is on the #15 Colfax RTD line with a stop across the street. The #15 is also accessed from the Colfax Ave. light rail stop. Ride share passengers can be dropped off near the front gates on the corner of Colfax and Clarkson.
Parking Options
Once you arrive, there is plenty of street and metered parking available in the blocks surround The Fillmore. Please note that these lots are not owned or operated by The Fillmore and they are not responsible for your vehicle. Please bring cash and credit as lots may vary in price and payment options.
Premier parking may also be available for purchase from these lots, but you will have to call and check.
The venue does not allow camping or overnight parking of any kind.