Fillmore Auditorium | Denver, Colorado
Extending her incredible Art of Teese Tour, Queen of Burlesque Dita Von Teese comes to Fillmore Auditorium on Thursday 20th July 2017 for a glittering night of glamour and titlation! Who knows what to expect from this siren of seduction, but her previous shows have involved "nine acts blend[ing] all levels of sexuality and size," as well as a "rotating, hot pink, bucking bull with crystal-studded horns!" It's going to be quite the event!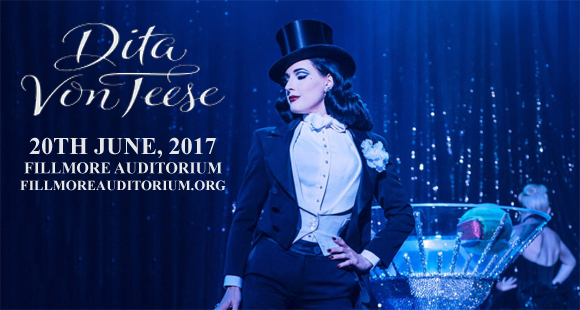 Known as the "Queen of Burlesque", Dita Von Teese is an American burlesque dancer, model, costume designer, entrepreneur and occasional actress. Von Teese was a classically trained ballet dancer at an early age and went on to pursue a career in burlesque in 1992. Considered a proponent of the burlesque revival and a pioneer of neo-burlesque, Von Teese famously "puts the tease back into striptease". Some of her most famous routines feature props, including: a carousel horse, a giant powder compact, a filigree heart and a clawfoot bathtub with a working shower head. The feather fans used in her famous feather fan dance (inspired by burlesque dancer Sally Rand), are the world's largest and are now on display in the Hollywood Museum of Sex.