Fillmore Auditorium | Denver, Colorado
Alternative rock fans, are you hyped for Live and Bush?? Together with support from Our Lady Peace, these three bands are hitting the road in celebration of the 25th anniversary of the respective albums that helped to make each of their careers. They're on their way to the Fillmore Auditorium on Saturday 3rd August 2019 – are you going to be there to celebrate with them?? There's only one way to be sure!! Grab your tickets to Live and Bush today, while they last!!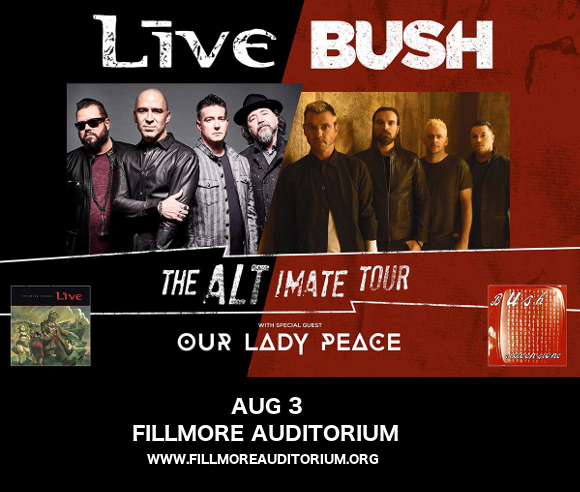 It's been 25 years since Bush released their astonishing debut "Sixteen Stone." Featuring the massive singles "Glycerine," and "Comedown," it's an album that catapulted the band to the forefront of the alternative rock scene. As for Live, they'll be celebrating 2 and a half decades of their sophomore album "Throwing Copper." "It's an amazing feeling to know that these songs still resonate so profoundly with people," said vocalist Ed Kowalczykiin an interview. "With Throwing Copper, we were taking on big things with a big sound. Love, truth, birth, death, philosophy, religion, spirituality…we were asking the perennial questions and poking around for answers with this massive and dynamic sound. It attracted people from all over the world. We were inviting them to imagine that rock and roll could be a valid forum for exploring these types of things… we built it and they came."
And they're still hungry for more!! What about you – do you have your tickets yet?? If not, then hurry – they're not expected to last for long!!