Fillmore Auditorium | Denver, Colorado
Are you prepared to see one of the most important bands in the history of the evolution of rock music as we know it?? That's right, the Pixies will headline the Fillmore Auditorium on Wednesday 18th October 2017!! Click the "Buy Tickets," button above to get yours now and save your space for this incredible show – but hurry! Tickets won't last long!!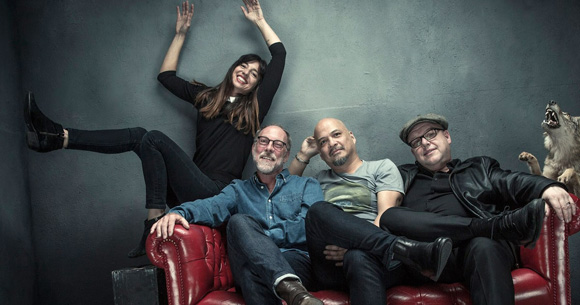 Formed in Boston, Massachusetts, in 1986, the Pixies saw most of their success in Europe, and the UK before achieving greater popularity in the United States. Guitarist Joey Santiago and songwriter Black Francis were neighbours while attending university, and began to play together after noticing a shared interest in music. Swiftly, that took priority over university, and recruited Kim Deal and David Lovering on bass and drums respectively, picking the name "Pixies," from the dictionary at random.
They went on to develop a sound that changed over time, yet remained distinctly Pixies, combining elements of pop, hard rock, surf, and psychedelia, offset by Francis' strange and surreal lyrics, covering obscure topics such as biblical violence and the possibility the existence of life on other planets. Their iconic record, "Doolittle," was received to massive critical acclaim by both fans and critics resulting in top 10 hits in the US and a thriving interest in the band that remained strong from one hiatus to another, all the way to the present day. The band's sound has influenced the likes of Nirvana, who famously said that all they did was "rip off the Pixies," Radiohead, and the Strokes, all of which are enormously iconic and influential bands in their own right. In this way, the Pixies have been incredibly important, starting a ripple effect that spread to create the genres and inspire, by first or second hand, the new waves of music that we know and love today.
Do NOT miss out on your opportunity to catch the legends live!!!