Fillmore Auditorium | Denver, Colorado
**Cancelled due to the sad and unexpected passing of Chris Cornell. Please contact the box office or ticket marketplace used to purchse tickets for a full refund.**
Grunge fans listen up!! None other than Soundgarden, early pioneers of the genre, will be taking to the Fillmore Auditorium stage on Monday 22nd May!! With them is support from the incredible math-rock band the Dillinger Escape Plan!! This will be a concert to end all others – do NOT miss out!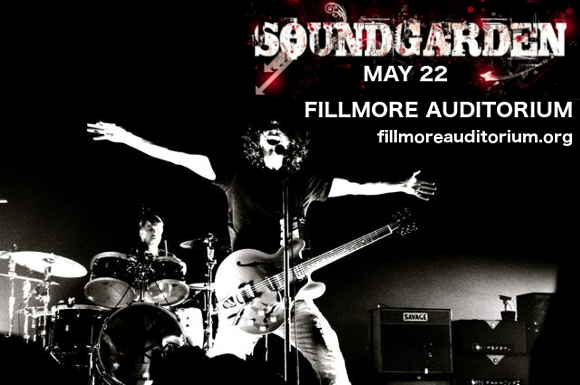 Veteran alt-rock band Soundgarden were formed in Seattle in 1984 by Chris Conell, frontman, guitarist Kim Thayil, Hiro Yatamo, bassist, and the later recruitment of Matt Cameron on drums and Ben Shepard replacing Yamatomo on bass. They were one of the original creators of the grunge genre along with contemporaries Nirvana, Alice in Chains, and Pearl Jam, signed initially along with other grunge acts to the Sub Pop record label. They were the first to sign to a major, in 1988 joining the roster of A&M records, achieving major commercial breakthrough in the early 90's. Their biggest success came in 1994 with "Superunknown," which shot to the very top of the Billboard charts and scored highly on charts worldwide, selling no less than 310,000 copies in its first week alone!! Today, it has sold over 9 million copies and been certified platinum FIVE times, winning two Grammys from singles off the album!!
As if that wasn't enough, we also have the Dillinger Escape Plan, the progressive, experimental, hardcore punk-meets math rock band that thoroughly refuses to obey the rules of any genre. Their totally unique sound, complex enough to bring them to the attention of critics and catchy enough to fling them into the commercial pop sphere, is an absolutely incredible experience live!!

What are you waiting for??? Hit the "Buy Tickets" button and grab those tickets NOW before they go!!!