Fillmore Auditorium | Denver, CO
Get ready everyone, British indie pop sensation The 1975 are coming to the Fillmore Auditorium for a killer show on Sunday May 2017 in support of their newest album "I like it when you sleep, for you are so beautiful yet so unaware of it". Ensnaring fans worldwide with their catchy tunes and quirky lyrics, if you aren't a fan yet, prepare to be, and get ready to see this amazing band live!!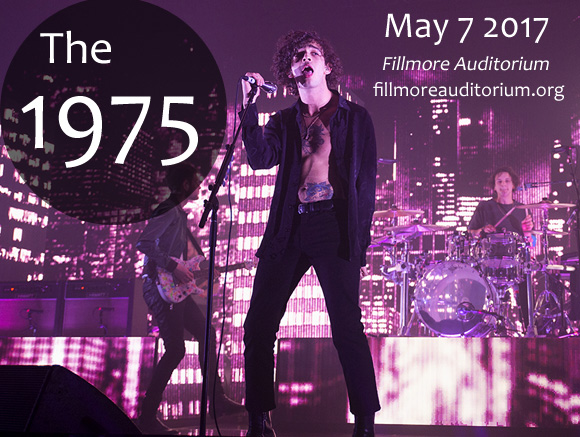 Formed in 2002 by frontman and son of actors Denise Welch and Tim Healy, the group has an old-school start, with the band members having played together as teenagers, playing gigs organised by a council worker, going on to sign a record detail after success with Dirty Hit and Polydor. With their emo-tinged, boy-band-with-guitars image, they've attracted a huge younger, mostly female fanbase with whom they instantly connected. Their most recent release has gathered them more respect and a far more varied fanbase. It's musically and lyrically ambitious as well as insanely catchy, and has forced those into "serious" music to take them, well… seriously. The lyrics, brooding, poetic, at once inhabiting and mocking Healy's own popstar persona, are full of self-awareness (and deprecation) in stark contrast to his unapologetically artsy personality both on and off-stage. Musically, they've been compared to everyone from INXS to Bullet For My Valentine – from gritty riffs, to wide open synth pads, to thumping dance beats, all wrapped up together with Healy's in-your-face, almost adamant vocal delivery, the end result is an undeniably perfect piece of pop.
See them live and find out for yourself what the fuss is all about – this is going to be a killer show!!