Fillmore Auditorium | Denver, CO
Multi-platinum trap rapper Trippie Redd comes to Fillmore Auditorium on Thursday 30th January 2020 on his Love Me More Tour! A fresh and exciting new face on the scene, he's amassed over 5 billion views since his debut two years ago, and he's released two top five albums, three mixtapes and seven EPs to date, as well as fourteen singles including his hit "Dark Knight Dummo" (featuring Travis Scott)! Trippie Redd is a hot name on the rap scene and he's only going to get bigger – catch him while you can!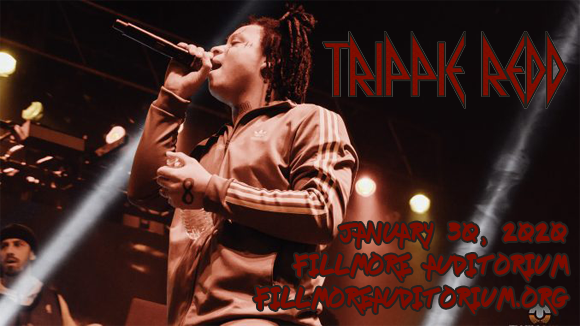 American rapper, singer and songwriter Trippie Redd made his debut in 2017 with the mixtape A Love Letter to You. The mixtape's lead single "Love Scars" became hugely popular online, receiving more than 8 million views on YouTube and more than 13 million on SoundCloud in just a few months. In January of the following year, he had his first hit single feturing on XXXTentacion's single "F*** Love", which peaked at number 28 on the Billboard Hot 100. His debut album, Life's a Trip, was relased in August 2018 and debuted at number four on the Billboard 200, followed by its follow-up, !, in August 2019, which debuted at number three. His latest offering is the mixtape A Love Letter to You 4, which was released in November 2019.