Fillmore Auditorium | Denver, Colorado
EVENT CANCELLED. Please contact your ticket point of purchase to claim a refund on your tickets.
The pop-rock sister duo, Aly & AJ, is back for a rockin' tour across the country in support of their upcoming new album "With Love From,". Giving a taste of the new record through their melancholic new single "With Love From", Aly & AJ teases a new sonic direction of Americana folk in their new record. As a contrast to ultra-pop beats that got them dominating the airwaves, "With Love From", marks a new chapter for the sister duo. Don't miss out on their 2023 tour hitting the stage at Filmore Auditorium on Tuesday, 4th of April 2023 by booking your tickets now!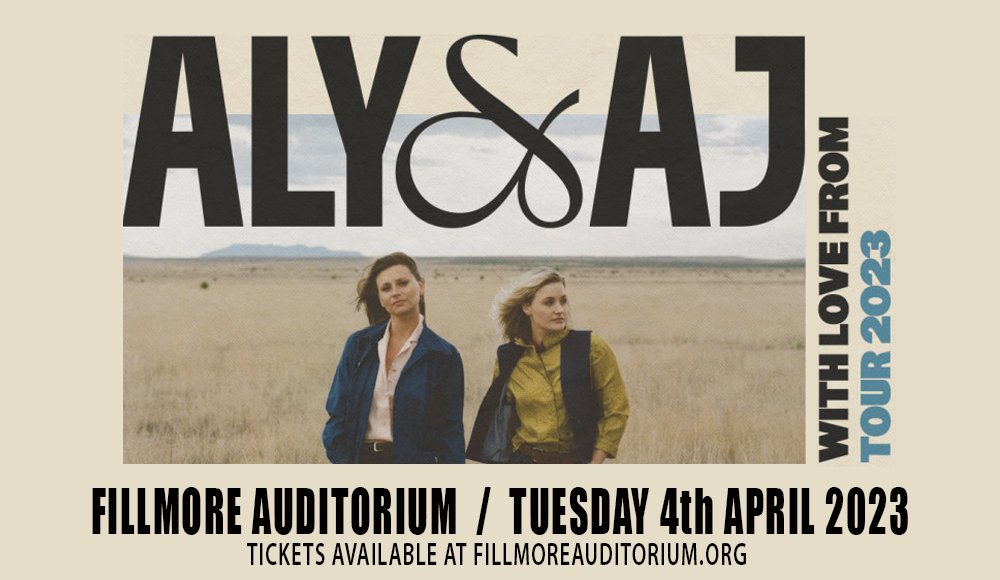 Coming in strong in the mid-2000s for their ultra-pop rock hits "Potential Breakup Song" and "Like Whoa", the acclaimed sister duo Aly & AJ have become a staple favorite for their lyrical reliability and high-energy tracks that hit right home. The duo recently shared the title track of their upcoming album "With Love From". The track came as a surprise for its introspective and melancholic vibe, hinting at a new musical direction for their new record.
"We wanted to make a record that kind of dug deeper into Americana folk music," Aly told Variety. "and we're not claiming that this record is among the American greats, but we did our best in telling our story and staying true to who we are as songwriters and musicians,"
If one thing remained the same about the iconic sister duo, it's their authenticity as artists in their craft. They continue to be much loved for their striking and relatable lyrics.
"Pop is still in our DNA — that's songwriting at its essential core. Every song, in a way, is pop. With a lot of ways songs are formatted, they're usually in a pop format," AJ added. "But I think for Aly and I, bringing in a little more of a rock edge, a little more guitar, a little more analog-leaning production as opposed to electronic-leaning synths."
As they gear up for the release of "With Love From" in its entirety this coming Spring, the duo invites all of their fans to their brand new tour in support of the new record. "The live aspect of our show is incredibly important to us and always has been," the duo shared. "We've already started designing this tour visually and sonically and we can't wait to deliver these songs in a live space. Some of these venues are bucket list venues for us so this tour is going to be unforgettable."
The upcoming album follows their 2021 comeback record "A Touch of the Beat Gets You Up on Your Feet Gets You Out and Then Into the Sun" which was their first album in fourteen years since "Insomniatic". Featuring singles "Get Over Here", "Am I Alright", and "Dead on the Beach", the record was named as "the feel-good album of the summer" by Vogue. The album was well-praised by fans and critics alike, with The Fader saying that "Ally & AJ just keep winning".
As the duo gears up to release "With Love From" featuring a new sound, Aly & AJ are artists to definitely watch out for this coming year.
Don't miss out on the With Love From, Tour this 2023 by booking your tickets now!