Fillmore Auditorium | Denver, Colorado
For the second night in a row, British experimental alt-rock outfit Alt-J comes to Fillmore Auditorium on Sunday 8th April 2018! With mind-blowing visuals and the cool, off-kilter indie tracks that have made them so popular, Alt-J are an incredible band to see live, exceeding expectations every time! Get ready for a stunning and unforgettable show from the "3WW" hit-makers!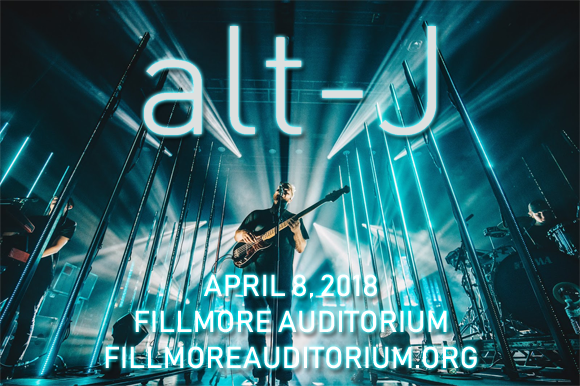 As Alt-J first took to the scene, most found their sound slightly strange and then an instant boost of love and appreciation for their music. A sign of something different and something that is worth sticking around for.. It's hard to believe it's been six years since their very first debut album An Awesome Wave was released in May 2012 in Europe, and in September 2012 in the United States, and won the 2012 British Mercury Prize. Gwil Sainsbury amicably departed the band in early 2014. Their second album, This Is All Yours, was released on 22 September 2014 and went straight to UK number one.
These guys bring all of the energy and excitement heard on their records, to every single concert and are truly a must see not just for Alt-J fans but also for any music fans as they are a talented bunch that will leave you in awe during their live shows and always wanting more after! If you have the chance to catch them LIVE this spring as they head out on their North America tour, with their latest release, then whatever you do – don't miss out!! It's going to be another out of this world year for Alt-J come and join the party and show them the love and support they deserve!