Fillmore Auditorium | Denver, Colorado
HUGE news!! Awolnation have made two massive announcements: one, that their new album, "Here Come The Runts," is coming out on February 2, and two, that they're going on tour with Nothing But Thieves in the new year to support it! Get ready to see these two incredible rock bands live on Tuesday 6th March 2018 at the Fillmore Auditorium! Don't miss out – book your tickets today while you still can!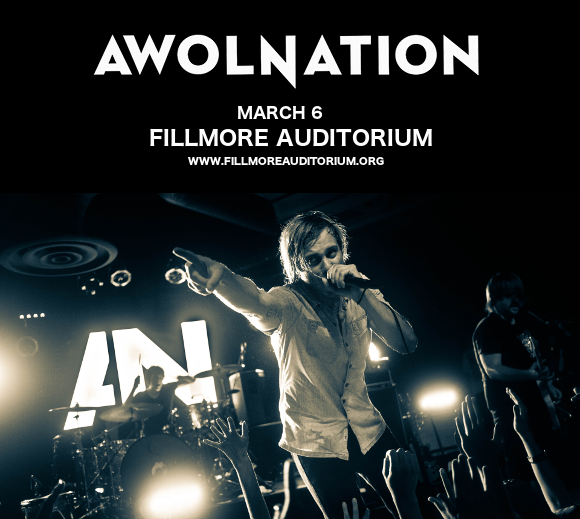 Awolnation became a well-known phenomenon in 2010 when their single "Sail," became an enormous hit, with sales of over 6 million, earning 6x platinum certification! Their first LP, "Megalithic Symphony", was released the next year, which also went on to be certified platinum by the RIAA. Now, with the release of their new single "Seven Sticks Of Dynamite," they've announced their brand new album, coming March 2018!! Listen to the new single below.
Joining Awolnation on tour will be Nothing But Thieves, also with a new release to show off; September 2017's "Broken Machine". Written largely while the band were on tour, the album expands from their first and pushes more boundaries, with the band stating that it was still very much a "them," album; "all the songs on the album are things that we've gone through or spoken about: Trump, religion, bigotry…"
We can't wait to hear all the new music live – get your tickets NOW and be in that crowd!!