Fillmore Auditorium | Denver, Colorado
Hip-hop spitting self-styled boyband Brockhampton comes to Fillmore Auditorium on Thursday 1st November 2018 on their I'll Be There Tour! The 14-man collective is touring in support of its eagerly awaited upcoming album Iridescence, and you know they'll be bringing a riot! This high-octane crew has a take-no-prisoners attitude when it comes to live shows, so whether you're a die-hard fan or a curious newbie, you're gonna get a lot of bang for your buck!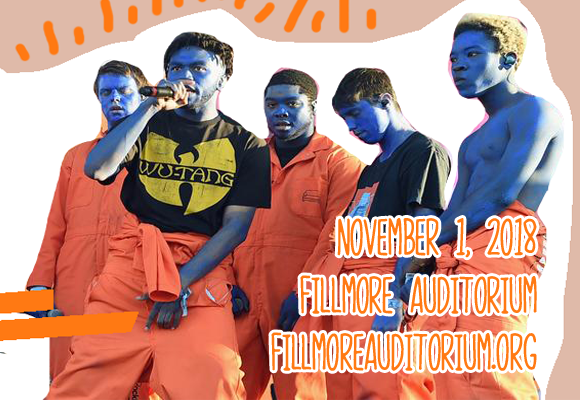 American musical collective and self-described "boy band" Brockhampton formed in San Marcos, Texas, in 2015 and are currently based in California. Originally a group named AliveSinceForever, the collective came together through the Kanye West fan forum KanyeToThe, and currently consists of Kevin Abstract (vocals), Matt Champion (vocals), Merlyn Wood (vocals), Dom McLennon (vocals), Joba (vocals, production), Bearface (vocals, production), Romil Hemnani (production), Jabari Manwa (production), Kiko Merley (production), as well as graphic designer Henock "HK" Sileshi, photographer Ashlan Grey, web designer Roberto Ontenient (who also features prominently in voice skits), VFX engineer and production assistant Kevin Doan, and manager Jon Nunes. The group's debut mixtape, All-American Trash, was released in 2016, followed by three albums the following year: Saturation, Saturation II and Saturation III. The group signed with Sony's RCA Records in March 2018 and their major-label debut, Iridescence, will be released in September 2018.