Fillmore Auditorium | Denver, Colorado
Known for its commitment to providing outstanding entertainment from the world's top talent, Fillmore Auditorium is outdoing itself this time, as it brings you the biggest jam band on the scene right here right now!! With their blend of sound, hints of Funk and Jazz.
That's right – Galactic on Saturday 17th March 2018! Tickets are currently available for this unmissable feel good music night, but won't be for long, make sure to book yours as soon as you can!!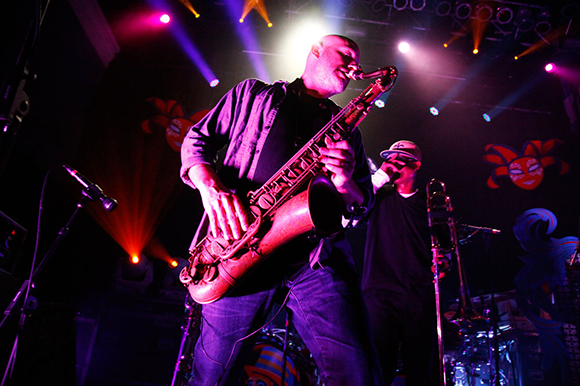 Galactic are racking up a storm around their performance and studio albums as they continue to impress their fans, old and new, all around the country and across the world! Singer Chris Lane and guitarist Rob Gowen, guitarist Jeff Raines, bassist Robert Mercurio, drummer Stanton Moore, Hammond organist Rich Vogel, Theryl DeClouet on vocals, and later adding saxophonist Ben Ellman are the six piece band that have been rocking stages since 1994!
First under their name Galactic Prophylactic and later changing to the single world, these guys mean business! As childhood friends and years under their belts as the group, they have truly worked on their sound to a perfect yet still improvised sound. Hinting influences and inspiration from the big time genre's such as; rock, funk, brass band, blues, jazz, hip hop, electronic, and world music.
In the Hiphop genre they have really highlighted how much they love it with their live cover versions of track such as; Boots Riley (of The Coup), Gift of Gab (of Blackalicious) and Chali 2na (of Jurassic 5), to vocalists Macy Gray, Mavis Staples, Allen Toussaint, Irma Thomas, David Shaw, Mystikal, Mannie Fresh, and JJ Grey.
Come and catch them at a venue near you this coming March to see what the fuss is about for yourselves! Be sure to book your tickets in advance and head on down..