Fillmore Auditorium | Denver, Colorado
Clear your calendars – it's the event of the year! That's right, the hottest new band bringing back the classic rock sound are on their way to the Fillmore Auditorium – it's Greta Van Fleet, on their 2018 US tour and performing in Denver on Monday 1st October 2018!! Get your tickets now to catch this incredible show live – you won't regret it!!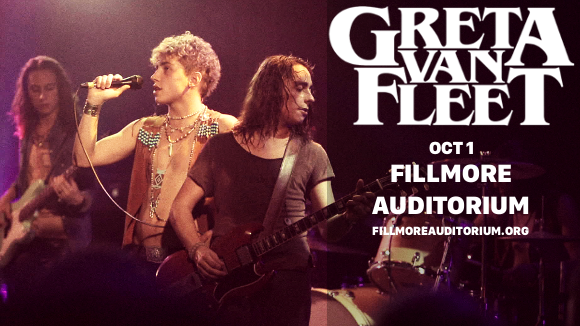 Taking the rock world by storm with their single "Highway Tune," Greta Van Fleet have catapulted to the forefront of the modern classic rock scene. Drawing inspiration from bands such as Cream, The Who, and Led Zeppelin (and earning the approval of Led Zeppelin singer Robert Plant!) Greta Van Fleet have already had to expand their first major North American tour due to fan demand.
The band, comprised of three brothers – Josh, Jake and Sam Kiszka, with their friend Danny Wagner – have said that touring has already had a profound impact on them as musicians and individuals. "I think that the fact that we've become more aware of certain ideas, different ideas, and different types of people from different areas… I guess it's that worldly, or that maturity that changes your perspective on how to write a certain song or something, and what to say."
Get ready to experience all their latest sounds – and maybe an all-new song or two – LIVE! It's going to be amazing – have you got your tickets yet??