Fillmore Auditorium | Denver, Colorado
"Wild Love" singer James Bay comes to Fillmore Auditorium on Thursday 4th October 2018 for a night of heart-on-sleeve indie rock from the sensational British artist, who will promoting his new album Electric Light on the tour!
"If I had to describe my first album visually it would probably be a flame – while this new album is about a real sonic and artistic evolution for me," Bay added in a statement to go with his album/tour announcement. "The feeling of a 100 watt bulb expanding and brightening is what I envisioned. Electric Light came to my mind and I knew it was perfect."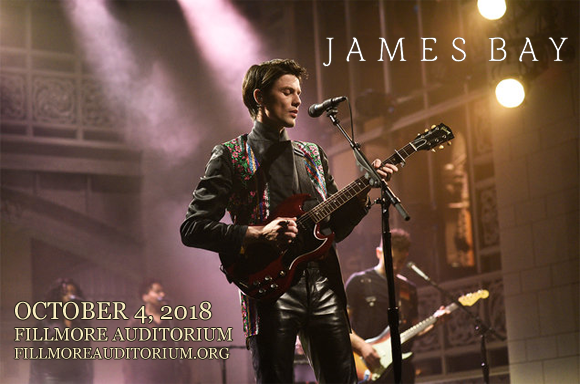 English singer-songwriter and guitarist James Bay, first found fame in 2014 with his single "Hold Back the River", which peaked at number 2 in the UK charts and was two-times platinum certified, eventually winning an Ivor Novello Award in 2016. The single was followed by the release of Bay's debut solo album Chaos and the Calm in 2015, which earned Bay three Grammy Award nominations (for Best New Artist, Best Rock Album and Best Rock Song for "Hold Back the River"). In February 2015, Bay received the Brit Awards "Critics' Choice" award, and at the 2016 Brit Awards he received the award for Best British Male Solo Artist. Bay's upcoming album, Electric Light, is slated for a 2018 release.