Fillmore Auditorium | Denver, Colorado
Calling all Orbits! Get your lightsticks ready as LOONA comes taking over the US on their first world tour called [LOONATHEWORLD], hitting the stage at Filmore Auditorium on Saturday, August 6th, 2022. Along with their big tour comeback, LOONA's been teasing their upcoming special mini-album "Flip That". The girls are ready to bloom and paint the town once again this summer! Catch LOONA's "Flip That" era come to life at the [LOONATHEWORLD] world tour by booking your tickets now!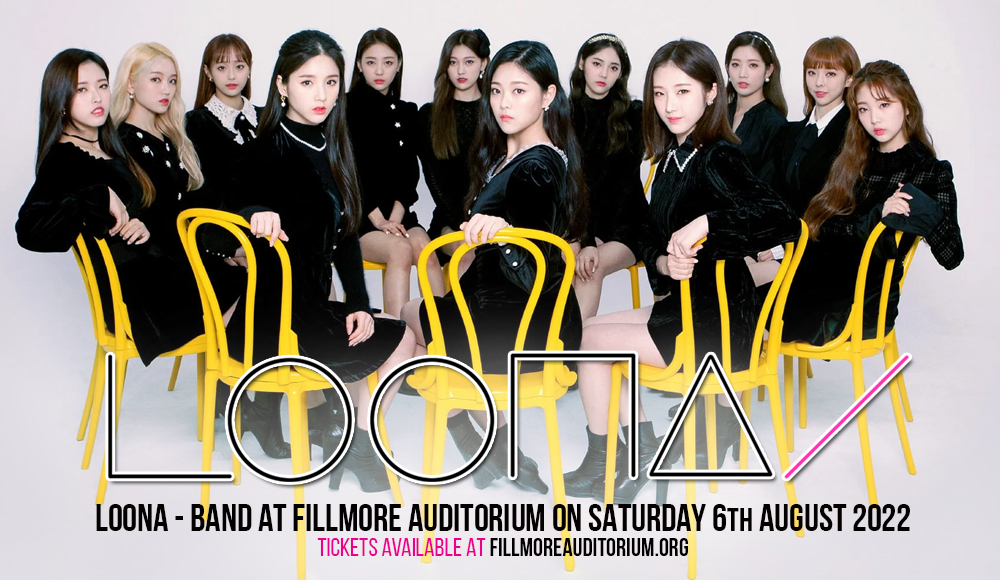 South Korean girl group LOONA made their official debut in 2018, with their EP "[+ +]" featuring its lead single "Favorite". The record debuted at #2 on the Gaon Album Chart, setting a milestone for the new girl group as their debut record became 2018's second best-selling debut album by a girl group. [+ +] was re-issued a year later with six new songs and another hit single "Butterfly".
At that point, LOONA soon became a favorite name in the girl group scene. Members HeeJin, HyunJin, HaSeul, YeoJin, ViVi, Kim Lip, JinSoul, Choerry, Yves, Chuu, Go Won, and Olivia Hye, are the girls who paint global domination as LOONA. Together they paint the town with color, energy-inducing hits, alluring choreography that fans can't get enough of.
The girls have released four mini-albums as a group, namely [+ +], [#], [12:00], and [&]. Their upcoming summer special mini-album "Flip That" comes out on June 20th.
LOONA's hit songs and crowd favorites include "PTT (Paint the Town), "So What", "Favorite", "Star", "Dance On My Own", and "365". As "Flip That" comes out real soon, fans have been itching to hear fresh new signature LOONA POP bops.
In an interview with Bandwagon in 2021, the group said "We'd like to describe LOONA's music as 'LOONA POP'… always trying new stuff and creating our own style".
With US tour dates announced, BlockBerry Creative added that Chuu won't be able to make it on tour due to schedule conflicts. Nonetheless, the LOONA spirit as the driving force for LOONA POP remains complete as the rest of the girls bring this new milestone and their new record "Flip That" to life at [LOONATHEWORLD] world tour.
Big surprises are in store as LOONA blooms, painting the town with color once again. Book those tickets now!