Fillmore Auditorium | Denver, Colorado
ONE OF THE BIGGEST JAM BANDS ARE ON THEIR WAY! Lotus return to Fillmore Auditorium on Saturday 24th February 2018! Get ready to catch the incredibly talented Lotus as they perform in California, bringing their instrumental music to the live stage… a popular favorite on the local and worldwide scenes, Lotus are inspired by the likes of The Orb to create their 'Jamtronica' sound! Book your tickets today and witness what these guys are all about, the pressure is building and the shows are selling out fast…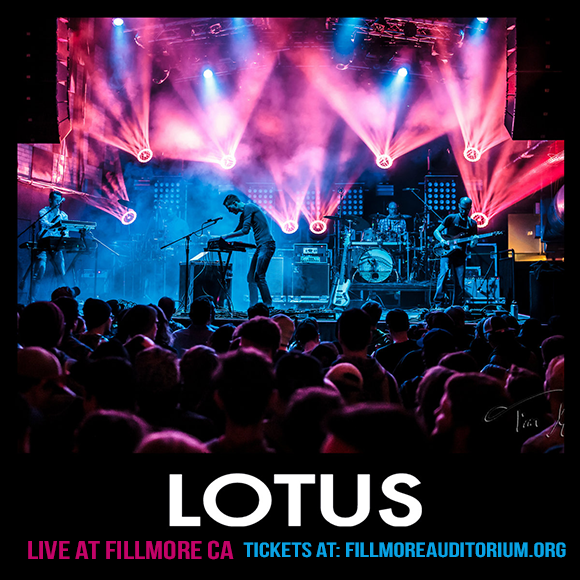 Lotus hit the ball rolling with their first album vibes in 2001 and signed to Harmonized Records – through them they were able to release a total of 3 records and by 2004, they took over the charts! Nomad recieved such a great response and gained "New Groove of the Year" Jammy award. It was then that they really developed their sound "an electronically inclined jazz-funk outfit", "Nomad exhibits Lotus' tight ability to blend shades of organic groove with elements of urban house".
For the last 15 years and counting, Lotus have continuously pushed out plenty of top of the range albums and singles including Harmonized, which was described by PopMatters as "instrumentals that – for the most part – don't go anywhere, but occasionally pulling out something that is genuinely thrilling".
With their hit after hit, they refined their sound to an even better standard and won "Best Live Album of 2007" and later on "Copy/Paste/Repeat reinvents the jam band's music as dance floor jams, with hip hop and trance-influenced beats and mind-warping electronic synth burbles".
The positive responses just kept on coming, all the way up until today and just when you thought they couldn't get any bigger and better, they do – their performances are also an event that is non-stop spoken about by their fans and fellow musicians!
2018 paves way for another exciting year – grab the chance to be there!