Fillmore Auditorium | Denver, Colorado
Get ready all industrial metal fans – the subversive, the demonised, the iconic rock star of old Marilyn Manson is back with his upcoming 10th studio album on the Heaven Upside Down U.S tour!! He's taking over the Fillmore Auditorium on Thursday 19th October 2017 – be there!! Book your tickets to see Marilyn Manson live NOW while they last – it's not going to be for long!!!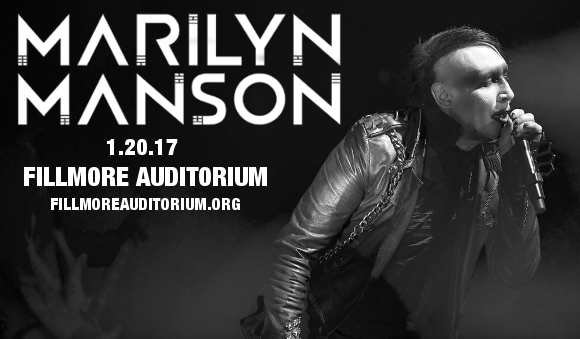 Born Brian Hugh Warner and taking the moniker Marilyn Manson from the names of actress Marilyn Monroe and serial killer Charles Manson, Manson grew to a status of notoriety in the 90s, thoroughly upsetting the church as the source of controversy and chaos. His success, however, grew in spite of – or perhaps because of – the negative public attention, and the rock star has kept up a steady stream of eagerly-received new works.
Due for release just one year after Manson's last magnificent album "The Pale Emperor," fans of Marilyn Manson are being kept on their toes while waiting for "Heaven Upside Down" – in particular as we've been told to expect the unexpected. Manson has described the upcoming new record as "not very much in any way like The Pale Emperor. The people who have heard the new songs said it reminded them of their favorite parts of Antichrist Superstar and Mechanical Animals—but with a new, different approach. It's pretty violent in its nature for some reason, and it's not emotional in the same way. It's got a chip on its shoulder."