Fillmore Auditorium | Denver, Colorado
Denver's very own funk-meisters with a capital "F", Sunsquabi, are coming to Fillmore Auditorium on Saturday 26th January 2019 and it's gonna get wild! This psychedelic, electronic jam band trio well and truly brings the groove, so get ready to get down as they offer up brand new tunes and a whole heap of classic Sunsquabi bangers to dance to! You know you love it!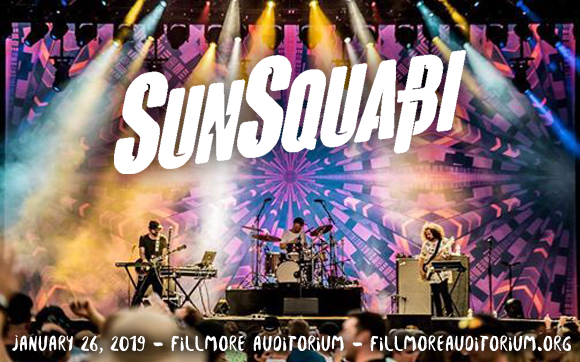 Funk-loving fellas from Denver, Colorado, Sunsquabi are an avant-guarde, sci-fi influenced electro-jam band. Odyssey, the band's debut EP, featuring Big Gigantic's GRiZ and Dominic Lalli, was released in 2016 with All Good Records, followed by 2017's EP, Deluxe. The group subsequently brought a three-part single release to the table with 2018's 'Caterpillar', 'Chrysalis' and 'Night Moth'. A three-piece, the band consists of Kevin Donohue (guitars/keys/production) Josh Fairman (bassist/synth) and Chris Anderson (drums).
"It's kinda like breathing, honestly. We can communicate directly with each other both verbally and non-verbally, onstage and off. That connection will take the music collectively where we all want to go." – Kevin Donohue