Fillmore Auditorium | Denver, Colorado
8 APRIL 2017 – get excited, the legendary rapper Tech N9ne is coming to Denver's Fillmore Auditorium! With a huge support lineup including Brotha Lynch Hung, Krizz Kaliko, Stevie Stone, and Ces Cru, the Strictly Strange tour is an immersive hip-hop experience like no other. Catch tickets for this sell-out show while they last!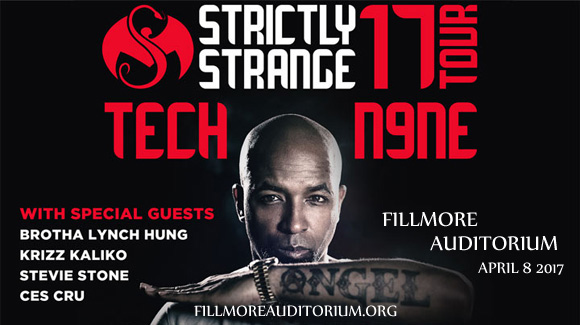 Born Aaron Dontez Yates, Tech N9ne acquired his stage name from rapper Black Walt to describe his fast-paced rhyming style. After starting his own label Strange Music, he has generated a colossal worldwide following and sold over two million albums. His music permeates everywhere, from films such as Alpha Dog, television shows Dark Angel and I'm From Rolling Stone, to video games including Madden NFL 2006 and EA Sports MMA. He's even an unlockable character in the game 25 For Life!
Tech N9ne cites various artists as his sources of influence, from AC/DC and The Doors to Slipknot as much as old school hip hop favourites Public Enemy and OutKast. Known for his speed rap, the "Chopper" style, and percussive flow patterns, Tech N9ne has been described as "bizarre hardcore rap," promising a truly unique live show.